In the Entertainment District Arc of Demon Slayer: Kimetsu no Yaiba, "Kirimise" refers to the place where Hinatsuru ( one of Sound Hashira Uzui's wives) resided.
This location has deep connections to the birth of the Upper Rank 6, Gyutaro, and Daki(Ume).
Let's explain what Kirimise is about and who Hinatsuru is in an easy-to-understand manner.
Spoiler Alert:This article contains spoilers for Episode 5 of Entertainment District Arc, Demon Slayer- Kimetsu no Yaiba.
Kirimise- The Lowest-Ranking Brothel in Yoshiwara
Kirimise (Red Light District): The lowest-ranking brothel in the Yoshiwara pleasure quarter, known as 'Kirimise.' It is the place where Hinatsuru, the wife of Uzui Tengen, moves to after drinking poison."
Kirimise: A Refuge for Women with Nowhere Else to Go
In Kirimise, many women who had no other destination, including those who had surpassed the typical retirement age of around 28 for courtesans, would become Kirimise courtesans. Some of them came from unofficial brothels in various locations.
In the movie "Yoshiwara Enjo," there is a scene where a prostitute who had left the profession to get married finds herself abandoned by her husband, who becomes involved with another prostitute. With nowhere else to turn, she returns to the life of a prostitute and works in the "kirimese" district.
Indeed, the "kirimese" district was a place where women burdened with various circumstances would gather. It was a raw and unrefined environment that attracted women who found themselves in difficult situations.
It seems that some courtesans who, like Hinatsuru, became unable to work on the main stage due to illness found their way to the kirimise (red-light district) as an alternative.
Four Distinctive Features of Kirimise
As a premise, there are four types of brothels in Yoshiwara, ranked by status and price:
Oh-mise (大見世) - Top Rank
Naka-mise (中見世) - Middle Rank
Ko-mise (子見世) - Low rank
Kiri-mise (切見世) - Lowest Rank
In each rank, prices vary.
1.Kiri-mise is on the backstreet
Oh-mise, Naka-mise, and Ko-mise(referred to as "the brothels on the main streets") are located on the main street, while Kiri-mise is situated on the backstreet.
2. In Kirimise, there is no retirement age
The courtesans in brothels on the main streets retire at around the age of 28, whereas Kiri-mise has no retirement age.
3. Kirimise operates on a time-based system
At the brothels on the main streets, customers can spend the entire night with the courtesans, but Kiri-mise operates on a time-based system.
4. Kirimise has only one courtesan
In the brothels on the main streets have multiple courtesans under their establishment, while each Kiri-mise has only one courtesan.
Absence of the iconic red lattice in Kiri-mise: A distinguishing feature of the courtesan houses
The opening tof the Entertainment District Arc also depicts the vermilion lattice fences known as 'magaki' (enclosures).
Customers can be seen carefully choosing courtesans lined up behind these fences, creating a scene typical of the pleasure quarters.
The establishments with these lattice fences are two-story buildings, with rooms on the upper floor to entertain guests.
However, Kirimise does not have these enclosures (magaki).
Kirimise consists of simple buildings where rooms are partitioned by a single sliding door, cutting through the row of tenements.
Multiple Kirimise establishments are lined up within a single building, conducting their business.
Cramped Rooms in Kirimise
The rooms in Kirimise are quite small. Upon entering, there is an earthen area, where one walks without wearing shoes, and as you ascend, you will find a dresser and a prepared futon, where negotiations with clients take place. Typically, each room accommodates one courtesan.
This is an old illustration depicting the Kirimise located in the backstreets.
The Kirimise, characterized by row houses, consisted of several establishments operating under the same roof. The rooms in Kirimise were small and modestly divided by sliding doors, with each establishment housing one courtesan. It portrays the traditional architecture of row houses, where multiple Kirimise establishments conducted their business under a shared roof.
The rooms in Kirimise are quite small. Upon entering, there is an earthen area, where one walks without wearing shoes, and as you ascend, you will find a vanity and a traditional Japanese bedding called 'futon,' which is prepared for the clients. Futon consists of a thin mattress, a quilt, and a pillow, and it is commonly used in traditional Japanese households for sleeping.
Typically, each room in Kirimise accommodates one courtesan.
The rooms in Kirimise are only about 1.8 meters( 6 feet) deep, which is quite cramped for someone like Uzui with a height of 198cm(6 feet 6 inches).
In the anime, they give the impression of being about 8 tatami mats in size, but in reality, it would be about one-third to one-fourth of that size.
Courtesans do not line up behind those lattice screens
Oiran, the highest-ranking courtesans, do not line up behind those enclosures.
Even among the courtesans, Oiran, who are considered the top tier, do not participate in the "Harimise" where they line up behind those enclosures.
There is a need for an intermediary called "Hikite Chaya" to facilitate their engagement.
When you want to engage the services of Koinatsu-Oiran, Warabihime-Oiran, and Suma-Oiran, it becomes necessary to request them by name.
There are occasions when a courtesan may not accommodate a customer's request, making the courtesan a hard-to-reach beauty.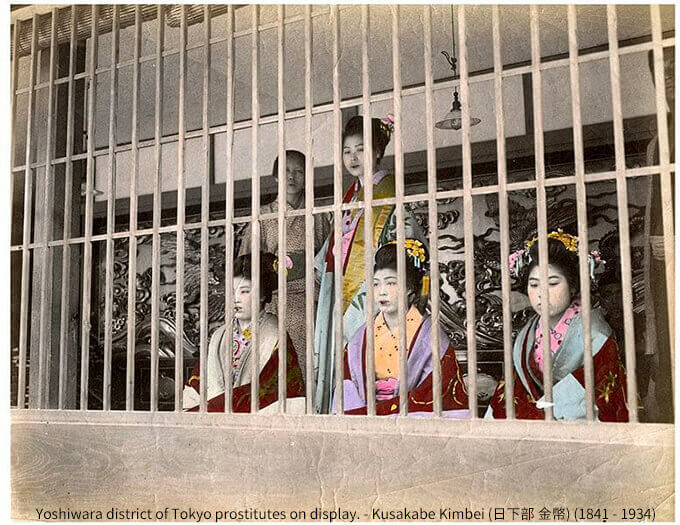 "I certainly didn't think Suma-chan would run away. She was a strong-willed girl. Koigetsu Oiran."
From the anime 'Demon Slayer: Kimetsu no Yaiba' - Entertainment District Arc, Episode 2
©吾峠呼世晴/集英社・アニプレックス・ufotable
I can't imagine Suma-chan, who was crying and throwing a tantrum as "Misokkasu," becoming such a refined courtesan, but when it comes to work, she might be quite dependable.
Price of Kirimise: approx. 2,500yen/visit
The price for a visit to Kirimise was 100 mon (approximately 2,500 yen).
(Based on historical records from the late Edo period, 1826, during the 9th year of the Bunsei era)
The Kirimise offers a relatively affordable option compared to the Oiran and other Yujo(courtesans).
The courtesans working in Kirimise put their bodies on the line to earn their daily wages.
Let's compare toother Oiran and Other rank the courtesans.
Oiran Pricing:
There are different ranks even among the highest-ranked courtesans of "Oiran." Here are the corresponding prices(Age-dai).
Highest
Middle
Low
Rank of Oiran
呼出昼三
(Yobidashi Chu-san)
昼三
(chu-san)
座敷持
(zashiki-mochi)
Daytime
approximately 125,000 yen
One ryō and one mon
during the day
Three mon (75,000 yen)
during the day and night:
Two mon  (approximately 50,000 yen)
Nighttime
for nighttime only:
One mon and two shu (approximately 37,500 yen)
for nighttime only:
Two shu  (approximately 12,500 yen)
The prices for other courtesans excluding the ones in Kirimise
range from 1 mon to 2 shu, approximately 25,000 to 12,500 yen.
Additional Fees Required to spend time with Courtesans
However, simply paying the "揚代" (basic fee) was not enough to spend a night with a Oiran in Yoshiwara.
It was customary to have meals together, and additional charges were required to cover the expenses of the attendants and servants surrounding the courtesan, such as "遣手" (yari-te) and "禿" (nakaze).
Therefore, in order to engage with the highest-ranking courtesans (known as "呼出昼三"), it was essential to pay additional fees on top of the basic fee.
As a result, only wealthy individuals such as samurai or wealthy merchants could afford to engage with courtesans.
揚代参照:カンゼン/安藤優一郎 著『江戸を賑わした 色街文化と遊女の歴史』
Kirimise: A Place Solely for Sexual Pleasure
The brothels on the main street served as social hubs where dining, music, and dance were included while Kirimise is a Pragmatic Place Specialized Solely for Sexual Purposes.
The Birthplace of Gyutaro and Ume(Daki) : The Crude District of Rashomon-gashi, a Vulgar Area Even within the Kirimise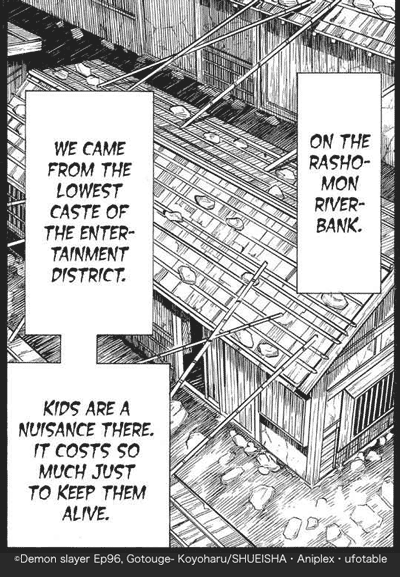 In Yoshiwara, there are four back alleys where the Kirimise line up along the dirty gutters.
Among them is an area called 'Rashomon-gashi' (羅生門河岸) - the very place where Gyutaro and Ume(Daki) were born and raised.
The'Rashomon-gashi'  is the lowest of the low ranks within the Yoshiwara red-light district.
It was within this bottom-tier environment that the likes of Gyutaro and Ume(Daki) were born and raised.
The setting created by Koyoharu Gotouge, the author of "Demon Slayer," is truly remarkable and thought-provoking.
About HINATSURU -one of Uzui's wives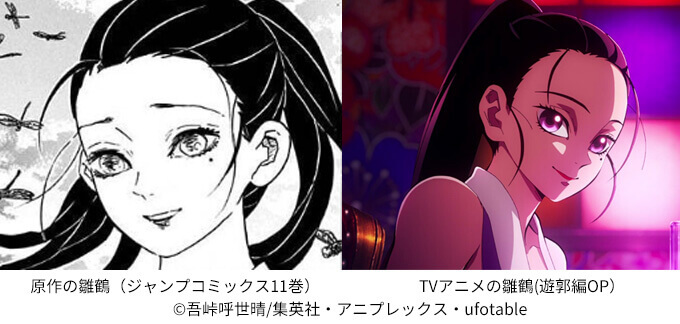 Hinatsuru is a balanced female ninja (kunoichi)
Hinatsuru (Hinatsuru) is one of the wives of Uzui Tengen,
Hinatsuru, one of Uzui-san's three wives, is a precise and well-balanced kunoichi (female ninja) skilled in intelligence gathering and combat.
In the Entertainment District arc, despite being instructed by Uzui-san to leave Yoshiwara once the antidote took effect, she later joins the battle and saves Uzui and Tanjiro from a pinch using her kunai.
As a kunoichi, it is likely that she also utilizes "feminine weapons" in her activities. It is presumed that she may have interacted with clients while undercover.
原作の掲載巻:鬼滅の刃 第11巻 参考:公式ファンブック「鬼殺隊見聞録・弐」
Uzui's Wives age and Voice Actors
Hinatsuru
須磨(すま)
まきを
VA Japanese
種﨑敦美さん
Tanezaki Atumi
東山奈央さん
Higashiyama Nao
石上静香さん
Ishigami Shizuka
VA English
Anairis Quinones
Emi Lo
Erica Mendez
Age
21
19
20
【テレビアニメ「鬼滅の刃」遊郭編】
新キャスト情報を発表いたしました。

まきを役:石上静香
須磨役:東山奈央
雛鶴役:種﨑敦美

各キャストからのコメントも公開。https://t.co/nghyLflcNN#鬼滅の刃 pic.twitter.com/R76YyaTCC2

— 鬼滅の刃公式 (@kimetsu_off) December 6, 2021
If you are interestred in Yoshiwara,
A bit more about "YOSHIWARA"
Here is a photo of the main gate of Yoshiwara. It was also depicted in the anime, right?
This main gate is the only entrance through which people can enter or exit Yoshiwara.  The reason for having only one gate is to prevent courtesans from escaping.
Known as the largest and most renowned tourist destination, officially recognized by the Edo Shogunate, the Yoshiwara red-light district existed until the implementation of the Anti-Prostitution Law in 1957. During the Taisho era in Demon Slayer, its scale had significantly reduced.
Yoshiwara, which is said to have had thousands of courtesans at its peak, has been featured in various books, manga, and movies, as you may already know. If you're interested, it would be fascinating to explore those works.
Works set in the Yoshiwara Red-light District
There have been several works set in the Yoshiwara red-light district. Some notable examples include:
"Sakuran" (2006):
A manga series by Moyoco Anno that was later adapted into a live-action film. It follows the story of a young girl named Kiyoha as she rises through the ranks of the Yoshiwara brothel.
"Yoshiwara: The Pleasure Quarter" (1956):
A Japanese film directed by Tomu Uchida. It depicts the lives of courtesans and their patrons in the Yoshiwara district during the Edo period.
"Oiran and Geisha" (1998): A novel by Kafu Nagai that provides a detailed account of the Yoshiwara district and its inhabitants. It explores the lives and experiences of oiran (high-ranking courtesans) and geisha.
These works offer captivating insights into the world of Yoshiwara and provide a glimpse into the lives of the courtesans and the cultural context of the time.
Reference
Thanks for reading!